Beginning in 2016, reflecting the results of preference surveys of the Sochi Olympians, airweave added specifications. One model provided harder support for the hips, while another combined harder hip support with greater softness around the shoulders. Athletes could now choose from a wider range of options according to their body shapes, body characteristics and preferences. At the 2016 Rio de Janeiro Summer Olympics and the 2018 Pyeongchang Winter Olympics, the top mattress were fitted to offer patterns customized for the body types of individual athletes.
A comprehensive product lineup
At the 2016 Rio de Janeiro Summer Olympics, airweave provided cushions that athletes could use while in flight.
The flight from Tokyo to Rio de Janeiro is an exhausting 30 hours long. For economic reasons, most Team Japan athletes flew economy class. When the delegation approached us about a product that might ease their discomfort during the long haul, we immediately began product development. Based on a plethora of opinions and requests obtained from the athletes, airweave produced samples. Repeated prototyping finally resulted in the creation of a foldable cushion. After the athletes used the product on their flight, airweave received enthusiastic feedback, with some Olympians reporting that they slept the entire way.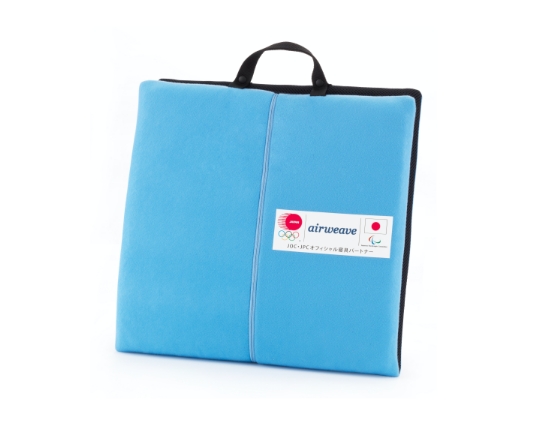 At the 2018 Pyeongchang Winter Olympics, airweave prepared athletes for the bitter cold of Pyeongchang with a "Hyper Down" duvet. We also provided an easy-to-carry blanket, which quickly found favor not only with the athletes but with local staff and media personnel as well.